Contact: fenikurniati@gmail.com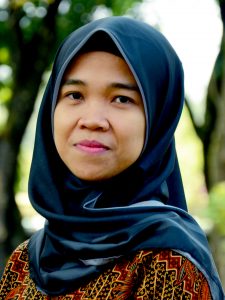 Education:
Magister Teknik Arsitektur (Master of Architecture). Architecture – Institut Teknologi Bandung, Indonesia. Theses: Representasi Nilai Keislaman dan Budaya Minangkabau dalam Desain Masjid Raya Sumatera Barat

Sarjana Arsitektur (Bachelor of Architecture). Architecture – Universitas Indonesia
Research Subjects:
Modern architecture
Vernacular architecture
Chapters in Book:
2020
Feni Kurniati. 2020. Regionalising Contemporary Architecture in a Case of Global South: Masjid Raya Sumatra Barat in West Sumatra. Penerbit: Springer-Switzerland.
International Journal:
2019
Widiastuti, I., Kurniati, F. (2019). Modernization and Vernacularity in the Tradition of Minangkabau Vernacular Architecture of the West Sumatra in Indonesia. Journal of the International Society for the Study of Vernacular Settlements, 6(2), 22-31.
National Journals:
2020
Estika, N. D., Kurniati, F., Lathif, A. S. (2020). Rekeang as a Concept of Sustainability in the House of the Society of Karampuang: Redefining Granary. International Journal of Built Environment and Scientific Research, 4(2), 137-146.
Septian, L. H., Kurniati, F., Tampubolon, A. C. (2020). Faktor Pengaruh Kebetahan Dan Kebahagiaan pada Ruang yang Sering Digunakan Di Rumah. Tesa Arsitektur, 18(2), 104-116.
2019
Muhammad, F., Kusuma, H. E., Kurniati, F. (2019). Preferensi Mahasiswa dalam Memilih Tempat Mengerjakan Tugas Kuliah Individu. Jurnal Arsitektur Komposisi, 13(1), 27-34, https://doi.org/10.24002/jars.v13i1.2779.
2018
Kurniati, F., Nurhijrah. (2018). Studi Persepsi terhadap Aspek-aspek Kesehatan pada Desain Kamar Mandi Hunian Sewa (Studi Kasus: Kos-kosan di Sekitar Kampus ITB). Jurnal Ilmiah TEKNIK, 3(2), 169-176.
2017
Sabatini, S. N., Kurniati, F., Haristianti, V., Sudrajat, I. (2017). Sumbangsih Juhani Pallasmaa dalam Teori Arsitektur. RUAS (Review of Urbanism and Architectural Studies), 15(2), 49-60.
Estika, N. D., Kusuma, H. E., Kurniati, F. (2017). Makna Kesakralan Gereja Katolik. Jurnal Lingkungan Binaan Indonesia. 6(3), 195-202.
Sumaryata, M. A., Kurniati, F., Sulaiman, M. A. (2017). Persoalan Ruang Terbuka Publik di Yogyakarta berdasarkan Persepsi Masyarakat, Jurnal Lingkungan Binaan Indonesia, 6(3), 162-169.
International Proceedings:
2020
Kurniati F., Salamah, H., Suryani S. (2020). Identifying Local Builders' Roles in Physical Transformation of Minangkabau's Rumah Gadang. Proceeding 'Reframing the Vernacular: Politics, Semiotics, and Representation'. Penerbit: Springer-Singapura.
2015
Kurniati, F., Sakina, B., Immanuel, A., Theofilus. (2015). Adaptation Pattern of Social Interaction from Horizontal to Vertical Housing. Study Case: Industri Dalam and Cigugur Tengah Flats. International Conference on 'I-Dwell – 14th QIR (Quality in Research), 65-87.
National Proceedings/Papers:
2017
Septian, L. H., Kurniati, F., Maharika, I. F. (2017). Konfigurasi Ruang Bertinggal di Perahu Suku Bajo. Temu Ilmiah Ikatan Peneliti Lingkungan Binaan Indonesia (IPLBI) 6, G 057-062.
2015
National Seminar on 'Semesta Arsitektur Nusantara 3 (SAN 3)' | Understanding Ritual of 'Tabuik through 'Place Attachment' Framework in the Making of Place Identity | Feni Kurniati
National Seminar – IPLBI | Presented | "Representation as Means of Communication in Architecture" | Feni Kurniati
National Seminar – 'IPLBI' | Palembang Behavioral Adaptation and Modification in the Process of Creating an Ideal Living Environment of Multi-housing Flats  | Feni Kurniati
Research Grant:
2020
Pendidikan Arsitektur dalam Konteks Pandemi COVID-19: Adaptasi Pelaksanaan Mata Kuliah Studio
Editorial Works:
2019
Unpublished Research Report 'Modernisation Impacts on Gender Relation in Architecture of Matrilineal Community in Ngada, Nusa Tenggara Timur'
2018
Main Editor | Summer Camp Book Report 2018 | Title: "Ngalokat Cai: Understanding Water Behavior"
Unpublished Research Report 'Modernisation Impacts on Gender Relation in Architecture of Matrilineal Community in Sinjai, South Sulawesi'
2017
Writer and Editor | Summer Camp Book Report 2017 | Title: "Off-grid and Sustainable Strategy for Rural Built Environment"
2014-2015
Editor | Documenting Architectural Works of Graduate Students ITB