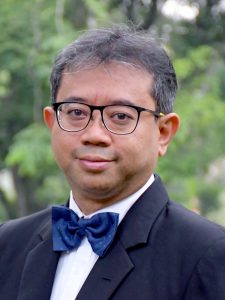 ---
Prof. Widjaja Martokusumo (1966)
Professor in Architecture and Urban Heritage Conservation, dean of the School of Architecture, Planning and Policy Development-SAPPD (2015-2020) and is recently appointed as University Secretary of Institut Teknologi Bandung (ITB). In 1999 he was awarded a Doktor-Ingenieur (Dr-Ing.) degree in urban planning and design from the Faculty Urban and Landscape Planning, University of Kassel, Germany. He was a visiting professor at the Faculty of Architecture, University of Applied Sciences, Erfurt in 2008/2009. He received Melbourne Asia Visiting Fellowship Award 2015-2016 at Melbourne School of Design (MSD), University of Melbourne, Australia, and also received in 2018 ErasmusPlus Teaching Grant at the Vilnius Gedeminas Technical University (VGTU).
Through his teaching, research, publication and professional engagements, he has contributed to the field of architectural conservation, urban heritage conservation, and urban design in Indonesia. Since 2013 he becomes the chair of the Architectural Design Research Group at the SAPPD ITB.  Besides, Prof. Widjaja Martokusumo is affiliated with Society of Architectural Historian Australia and New Zealand-SAHANZ (2016), assessor of National Accreditation Agency of Higher Education, member of ACLA, and also an honorary member of Indonesian Astronomy Society.
E-mail: wmart@ar.itb.ac.id.
Website : http://dosen.ar.itb.ac.id/pa/wmart/